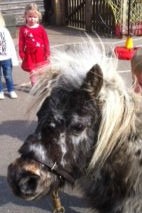 Spotted Miniature Horse Dotty took everything in her stride during a visit to Alleyn Court Preparatory School to meet the class mates of her owners Seraphina and Zachary who both attend the school.
We had to park the trailer out by the school playing field and walk her through the playground where the older children were all out during the break, past the tuck refreshments table and into the prep school enclosed playground for the younger children ages 2 to 4 years. She coped so well with all the noise in the big playground and a bell and whistle.  There were all sorts of play equipment for the younger children but she was not upset by any of it and was inquisitive, wanting to investigate everything.
Small groups of children were brought our to the playground by their teacher 6 at a time.  They had to wait behind a line and were invited to come out and stroke and brush Dotty one at a time, supervised by Seraphina and Zack's dad who met us there.
Dotty delighted both teachers and the young pupils.  She might make a good therapy horse yet!Watch this space.