Jane's Art and Crafts
I have always enjoyed drawing and painting particularly horses and other animals.  Inspired by nature I like to sketch or paint things in small detail.  Being unable to take art as an option in my teenage years at school I never really had the tuition to work with different mediums.  A busy life and caring for the animals took over and i fell out of practice for some years.  Since living in Messing I recently joined the art group in the village hall.  This has begun to re kindle my interest and I have once again started to draw and paint. I have also started wool felting initially inspired to "Do Something" with our own sheep's wool and then finding it was easier to use ready prepared and dyed wools of softer textures like Merino and Alpaca. Some of my creations were shown at the Messing Art Exhibition in September this year.
Our Coloured Ryland Sheep were the original inspiration for the first wool felted gift cards I made.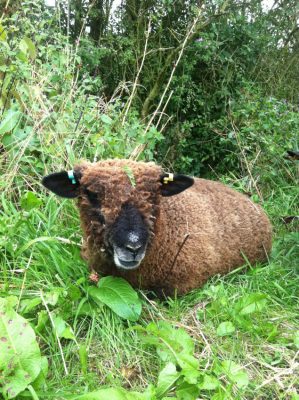 I have created a range of bespoke gift cards and small framed pictures that can be made similar to the wool felted designs shown or in water colour.  I tend to use small items of textiles, yarns, beads and sequins to create a 3D decorative effect for these little pictures that make great gift ideas.  They can be customised and done as commissions of beloved pets or of any animal.  A nice gift for children and grown up children alike.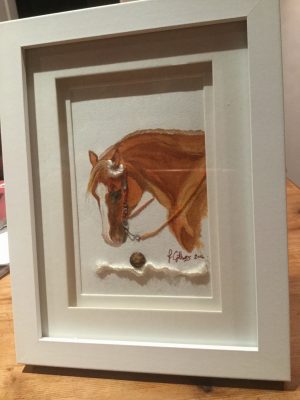 Please Contact me for more information, pricing and to discuss your ideas and requirements. Prices start from £4.00 for hand made cards, from £15 to £40 for the small framed pictures, larger pictures may also be considered.  They are all originals.